This post contains affiliate links. Thanks for supporting my creativity!
If you've been following our home renovations, you are probably familiar with the plain grey paint color that seemingly covered every wall in our house.
While grey works in many design schemes, this particular shade just didn't work with midcentury modern furniture. When we decided to tackle our guest room makeover, I had an extra gallon of this sage green in the basement and decided to go for it.
I love using sage green on walls because it's so calming and manages to register as an earthy neutral while still possessing a little color. We used "Minted Sage" by Behr Marquee in eggshell.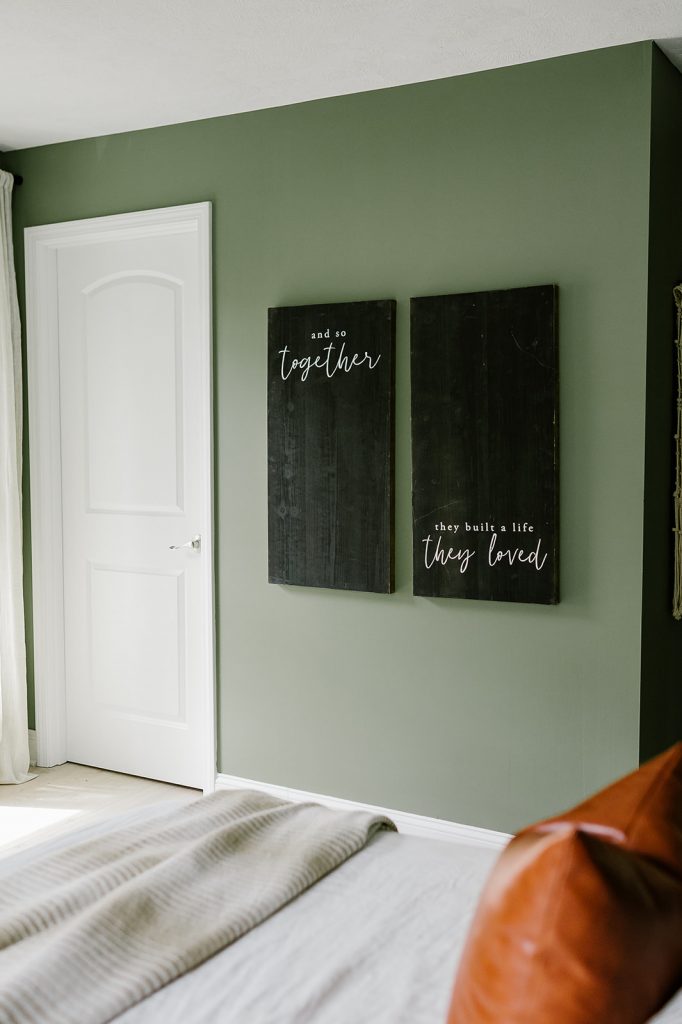 A few coats of paint — and our guest room was transformed. Immediately the room felt more welcoming and soothing. The new color perfectly complimented our vintage walnut furniture as well.
It's funny how furniture can feel out of place or dated — until you style it correctly. Against the sage green walls, the walnut dresser is absolutely delicious.
Our vintage campaign nightstands are also some of my favorite pieces in the room. I kept the decorations here simple so that guests have a landing spot for water or a book.
The finishing touches to our guest room? Fresh linens and breezy curtains. In my opinion, linens play a large role in creating a cozy bedroom. I buy all of our linen duvet covers from h&m. They are super affordable!
Room by room, we have been making this house ours. With each makeover finished, we feel more at home here — and I love that! We're ready for life to get back to normal so we can welcome more guests.
More blog posts you might enjoy