This post contains affiliate links, thanks for supporting my creativity.
I've said it before, and I will say it again: a stylish refresh does not have to break the bank. In previous homes, we pulled off several budget renovations, like this dramatic bathroom makeover and our popular kitchen remodel. Spending less does not require cutting corners or lowering your tastes.
In fact, budget renovations (or mini makeovers) are a perfect hold over when you know a space may require a large overhaul down the road. Take our laundry room, for example…
Our Indy dream home required a lot of vision and elbow grease. Especially our laundry room. While nothing was technially wrong or unuasable about the space, it felt dated and faded. Sometimes, when a space has seen a lot of wear and tear, it can feel "dirty" even when it isn't. And no one wants their laundry room to feel dirty! With a baby girl on the way, a functioning laundry room was a top priority.
My husband Andrew and I decided to give the space a refresh. Despite my love for dramatic black walls, I decided to go white in this room. The color is so fresh and inviting! We ordered new appliances and painted the laundry closet black for contrast. Art deco sticky-tiles provided the finishing touch.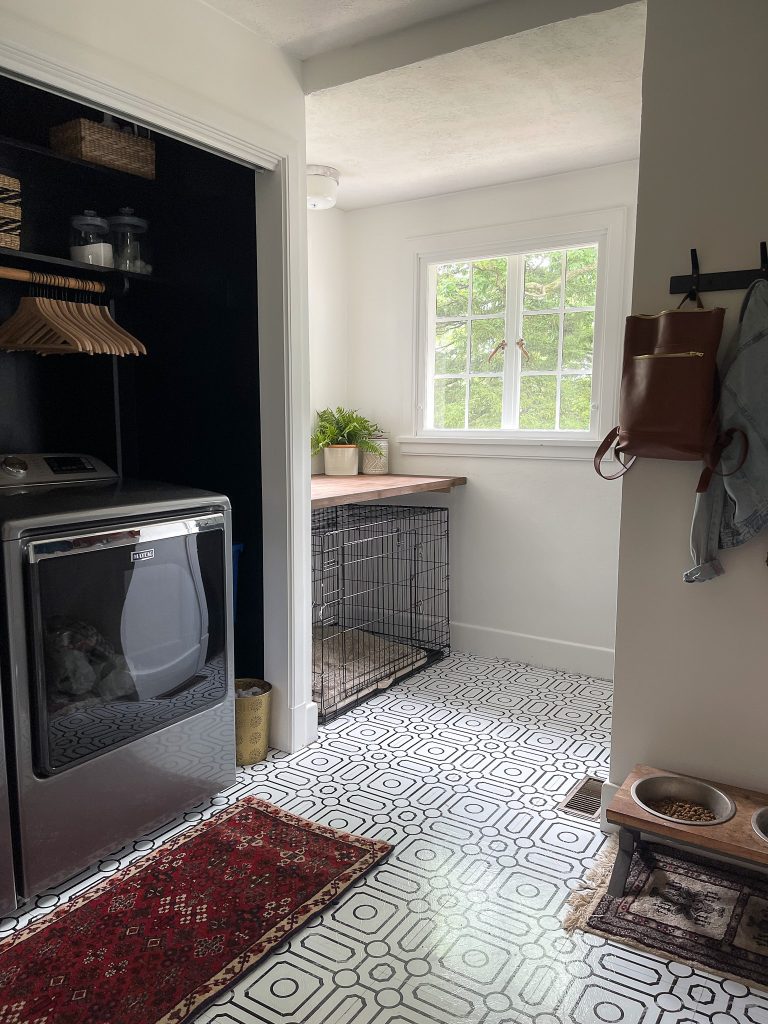 Shop Everything in this Post

One of my favorite elements of the laundry room is adding in the butcher block countertop over the dog's crate. I love that it serves multiple functions as doggy home and folding space.
Here is a breakdown of the total project cost:
Paint: 1 Gallon of KILZ primer & 1 Gallon of Behr Marquee in Polar Bear White $75
Flooring: Adhesive art deco vinyl tiles $175
Butcher Block: Walnut 5′ piece from Lowe's $175
Baskets: At Home Stores $80
Coat Hook: Target $32
Large Hooks: Target $24
TOTAL: $561.00
My budget for this room was $500, but I ended up splurging on a new washer and dryer. After all of that elbow grease, I couldn't' help myself. The new appliances were the cherry on top of this DIY project. I knew I wanted the same exact units I purchased for our last home that I had to leave behind in the sale. I love that Maytag is in made in the USA. Also, a top loader is a must for us. The extra capacity and convenience tops aesthetics for me in the end.
More posts you may enjoy:
I'm so glad we tackled this space before Ryan's arrival. The laundry room now feels clean, fresh, and welcoming! And above all else, it is much more decluttered and functional for us. I may actually enjoy doing laundry now. Just Maybe.